Brown Bear Taxidermy Studio
289 Pleasant Valley Road (Rte 443)

Pine Grove, PA 17963
570-345-3030


CALL FIRST

25 Minutes From Cabela's Hamburg, PA
Just Off 78 Or 81 In Pine Grove, PA
Shipping & Receiving Nationally
Taxidermy Care, Tips, Shipping
Moose Taxidermy - Moose Shoulder Mounts - Alaska-Yukon Moose - Canada Moose - Shiras Moose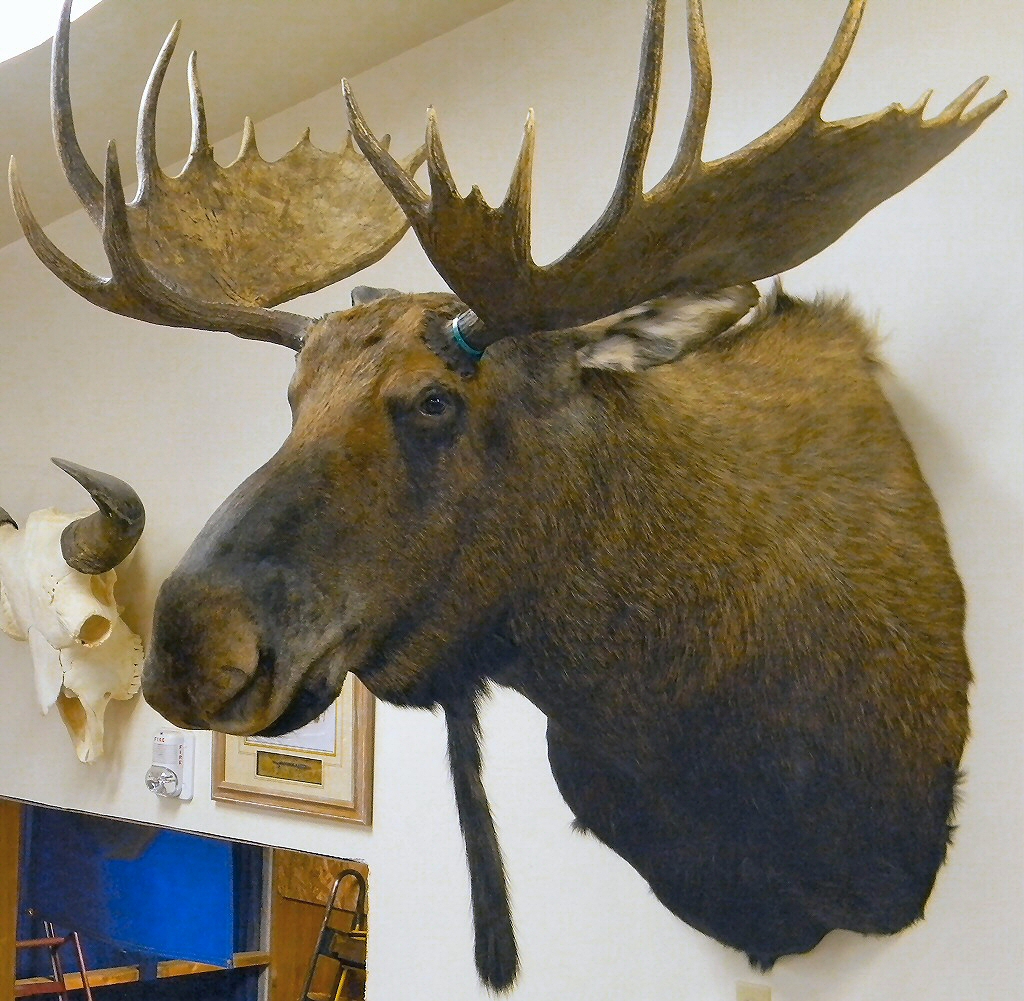 Moose Shoulder Mount Pedestal Taxidermy

Moose Shoulder Mounts On Pedestals Are One The Most Stunning Moose Taxidermy Mounts Of All!

We are fully trained in all of the latest Moose taxidermy techniques and our results speak for themselves.

If you want that Moose of a lifetime to look like the moment you harvested it and stay that way for years to come, go with a true quality taxidermist experienced in moose.

Moose Shoulder Mount Taxidermy

Moose Shoulder Mounts Are A Popular Moose Mount Usually Do To Just The Size Of The Animal.

We use advanced moose taxidermy techniques that eliminate loss of hair and other problems that can happen with lesser quality moose taxidermy mounts.

Call us to discuss your upcoming Moose hunt.
We would be glad to discuss how we can work with you and your outfitter.

Choose Brown Bear Taxidermy Studio And Have The Piece Of Mind Knowing Your Moose Mount Will Be Done Right!
Moose Shoulder Mount Taxidermy

Moose are huge! Of all the deer species moose are the largest by far.

A male moose can have massive antlers that can span 6 feet from end to end!

Moose can appear odd due to their long faces, muzzles that extend over their chins.

Under their throat/chin area they have a long flap of skin called a bell that moves about as they move.
Moose Taxidermy Done Right The First Time!
Why trust your trophy to just anyone.
We often are re-mounting other "mounts".
Brown Bear Taxidermy Studio is trusted by people that can go anywhere.
After all you put into the hunt why make the mistake of a lifetime with your trophy of a lifetime by trying to save a few dollars or go with a friend of a friend that does taxidermy.
Contact Us Today.

Brown Bear Taxidermy creates some of the finest life like Moose mounts found anywhere.

Moose Taxidermy with a 1 year or less turn around time.

We maintain a 100% customer satisfaction rate.

Moose Taxidermists - Professionally and expertly trained by some of the top names in the industry and we are fully licensed.

Moose Shoulder Mounts are one of most requested mounts for Moose.
Brown Bear Taxidermy Studio
289 Pleasant Valley Road
Pine Grove, Pa. 17963
570-345-3030
Always Call First To Be Sure We Will Be In.

Hours: Mon thru Friday 9am - 5pm
Sat - Appointment Only Sun - Closed
Other Hours By Appointment Only - Call

Copyright Protected & Strictly Enforced

Copyright 2001-2023 Brown Bear Taxidermy Inc.
Website Design PA By MCEnt
All Images and content protected by international copyright law.
NO image or part of this website may be reproduced or used in ANY many without prior written permission.
PA Taxidermy PA Taxidermist - Pennsylvania Taxidermist - Pennsylvania Taxidermy Studio
Brown Bear Taxidermy Studio
Moose Taxidermy Pennsylvania, Moose Taxidermy Studio Pennsylvania, Pennsylvania Taxidermist, Moose Taxidermist, Moose Shoulder Mount, Moose Pedestal Mount Form Taxidermy, Quality Taxidermy, Advanced Taxidermy, Custom Taxidermy, Licensed Taxidermist