Brown Bear Taxidermy Studio
289 Pleasant Valley Road (Rte 443)

Pine Grove, PA 17963
570-345-3030


CALL FIRST

25 Minutes From Cabela's Hamburg, PA
Just Off 78 Or 81 In Pine Grove, PA
Shipping & Receiving Nationally
Taxidermy Care, Tips, Shipping
Fish Taxidermy Mounts - Trout Mounts - Steelhead Mounts - Bass Mounts - Walleye Mounts
Steelhead Trout Taxidermy Mount
Brown Bear Taxidermy creates some of the finest life like fish taxidermy mounts found anywhere.
We have a one year turn around time average or less in many cases for our fish taxidermy mounts.
We maintain a 100% customer satisfaction rate.
We are professionally and expertly trained by some of the top names in the industry in mounting fish and are fully licensed.
Palomino Trout or "Golden Trout" Taxidermy Mounts Pennsylvania
Palomino Trout are actually a color variation of a Rainbow Trout and are created by crossing Rainbow Trout with what is called a Golden Rainbow Trout. (Which is not the same as the Golden Trout out west.)
The Golden Rainbow trout had it's actual roots from a single rainbow spawned in West Virginia.
Typically they are found in Pennsylvania. Originally introduced by the Pennsylvania Fish and Boat Commission, Palomino Trout are prized trophies and make great fish taxidermy mounts while also being tasty on the dinner table.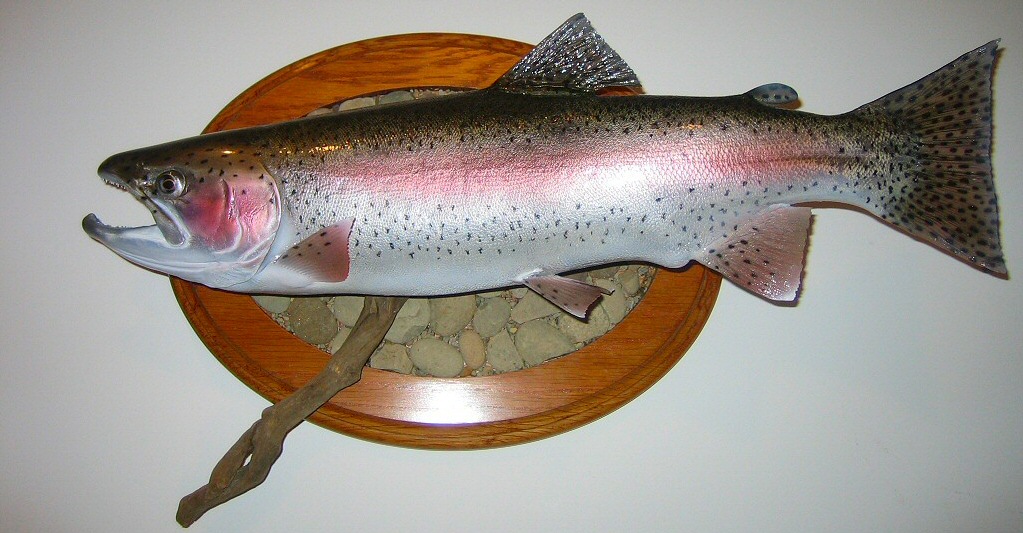 Rainbow Trout Taxidermy Mounts - Pennsylvania
Rainbow Trout originated on the west coast from Alaska down to California, even into Mexico and have been established inland from Canada down through all of the USA. Introduced throughout the world Rainbow Trout are one of the most popular and recognized fish in the world to sport fishermen. They are also excellent on the dinner table. They are popular to a wide range of fisherman from beginners to the most talented fly fisherman. There are many variations, strains, regional characteristics. They truly are a trophy fish.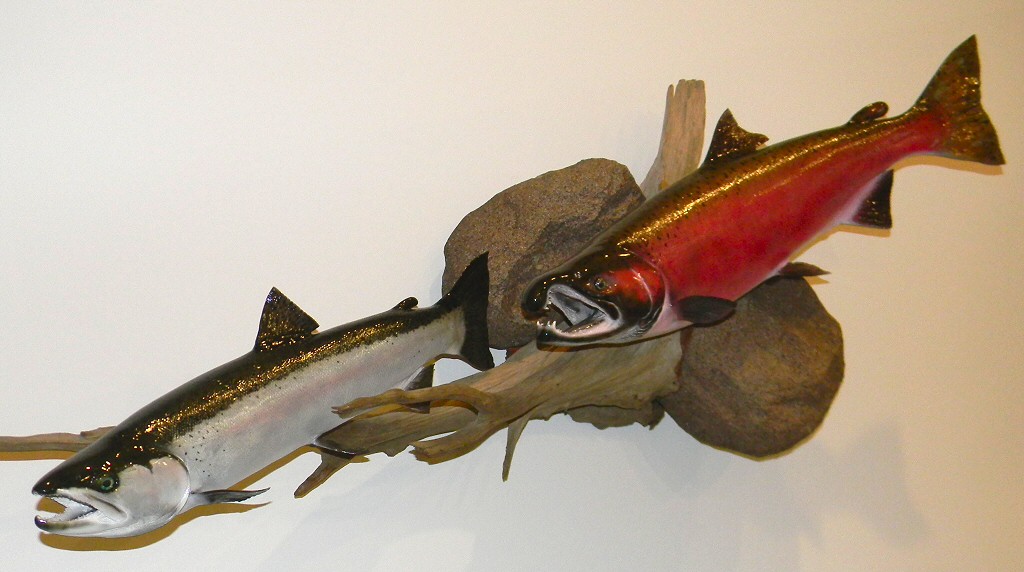 Salmon Steelhead Taxidermy Mounts - Steelhead and Salmon are some of the strongest, toughest and most prized trophies to swim in fresh or salt water. Their line peeling runs, drag screaming, praying you will be able to land this one!
When you do land that trophy steelhead or salmon of a lifetime, have it mounted by an award winning taxidermist trusted for decades, Go With Brown Bear Taxidermy Studio.
We highly recommend you Take A Kid Fishing! - In PA the Pennsylvania Fish & Boat Commission has many programs to encourage fishing, for kids, adults, families, from rearing trout and other fish that are stocked and released, to several annual Fish For Free Days each year. - Get a kid out and enjoy the outdoors, Take A Kid Fishing!
Small Mouth Bass Mounted In A Very Realistic Habitat
Fish Taxidermy Mounts Pennsylvania

Fish mounts in any pose or habitat you can imagine.

Quality you will display with pride and confidence for many years to come.

Fish Taxidermy Is One Of Our Specialties At Brown Bear Taxidermy Studio.

We have been creating the finest lifelike Fish Mounts, With Custom Habitats, In Any Pose Imaginable, For Decades.
Striped Bass Mount

A trophy striper is a memory you want to capture forever, with tales to tell all who see it, passing along your success for generations to come.

Our taxidermy customer's and repeat customer's tell us the main reason they use us is that their fish mount looks as alive as it did when they caught it.

A good fish taxidermist can make a good mount, but a great fish taxidermist can bring your trophy to life!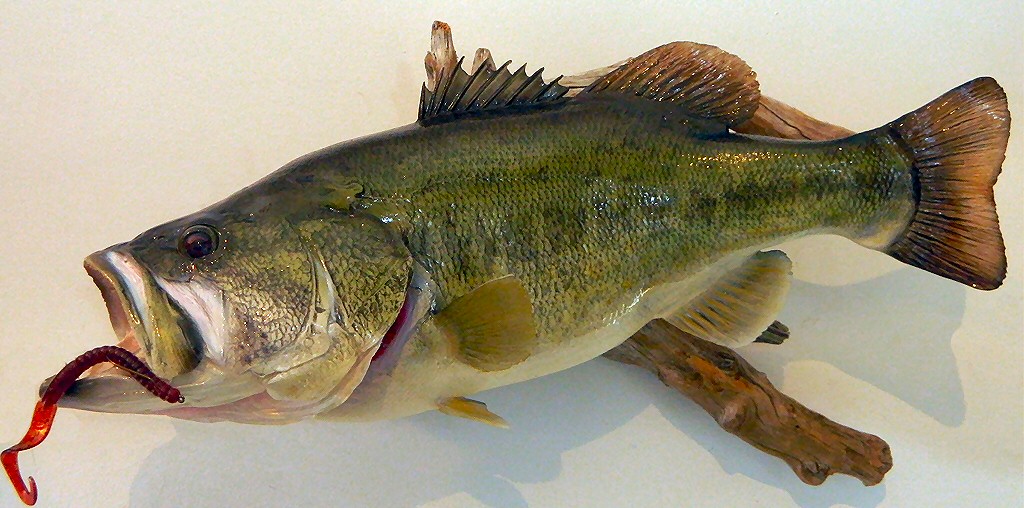 Largemouth Bass Taxidermy Mounts Pennsylvania
Capture that drag peeling fight of your once in a lifetime bass forever! In any pose or habitat you can imagine!
Quality you will display with pride and confidence for many years to come.
We have been creating the finest lifelike Largemouth Bass Taxidermy Mounts For Decades, With Custom Habitats, In Any Pose Imaginable.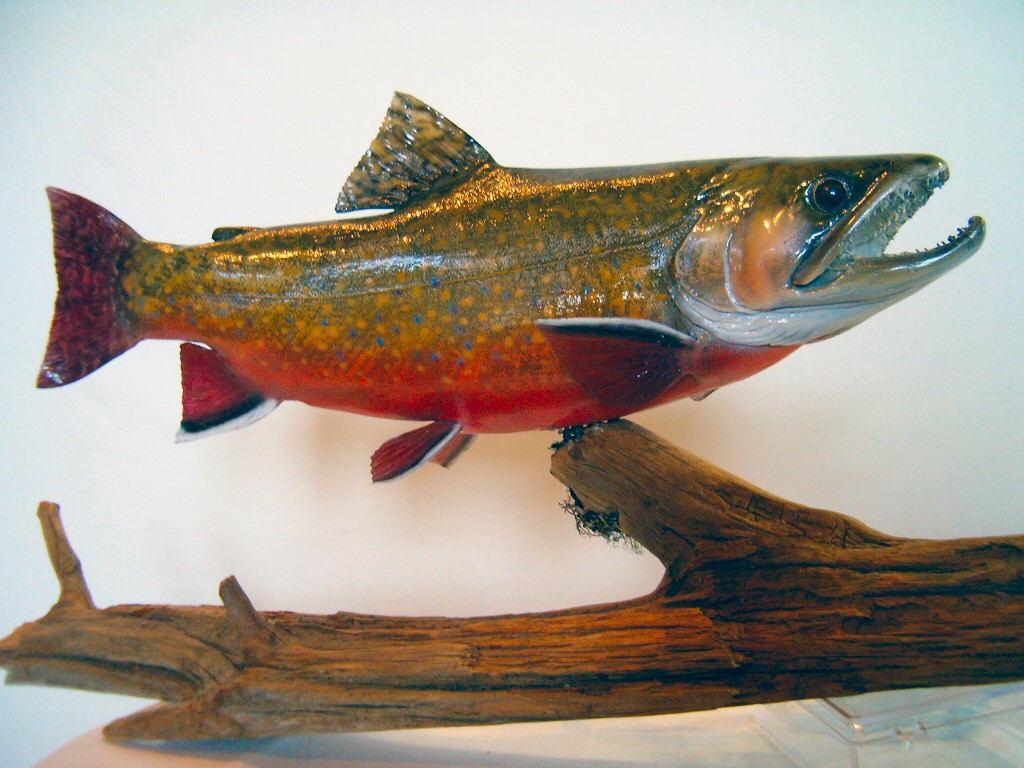 Brook Trout Taxidermy Mount Pennsylvania
Walleye Taxidermy Mounts Pennsylvania

Whether it is a trophy walleye or bass mount, a steelhead mount, a rainbow trout mount or any other game fish mount, take your trophy fish to a quality fish taxidermist.

Brown Bear Taxidermy Studio,
Capturing Your Magic Moments Outdoors Forever!
Glass Table Taxidermy Mount of Walleye Chasing Perch

We are fully trained in all of the latest fish taxidermy techniques and our results speak for themselves.

If you want that trophy of a lifetime to look like the moment you caught it and stay that way for years to come, go with a true quality fish taxidermist.